Sandeep Kumar Singh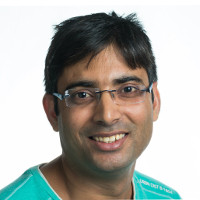 Post-doc
joined February 2017
office: Origo, R7105B
Education
2015 - 01/2017 : Visiting Researcher, Laboratory of Organic Electronics, Linköping University, Norrköping (Sweden).

2010 - 2014 : Ph.D. in Physics, Condensed Matter Theory group, University of Antwerp (Belgium).

2007 - 2009 : M. Tech (Industrial Mathematics and Scientific Computing), Indian Institute of Technology Madras, Chennai (India).

2000 - 2006 : B.Sc and M.Sc in Physics, Aligarh Muslim University, Aligarh (India).
Research Interest
Electronic and thermo-mechanical properties of 2-Dimensional materials (ex. graphene, h-BN, TMD) and their van-der Waals heterostructures.

Multiscaling modeling to understand the morphology, electronic, capacitance and fuel cell properties of conducting polymers.
Publications
Norbornadiene-based photoswitches with exceptional combination of solar spectrum match and long term energy storage

Permalink


M. Jevric, A. U. Petersen, M. Mansø, S. K. Singh, Z. Wang, Ambra, C. Sumby, M. Brøndsted Nielsen, K. Börjesson, P. Erhart, and K. Moth-Poulsen
Chemistry - A European Journal 24, 12767 (2018)